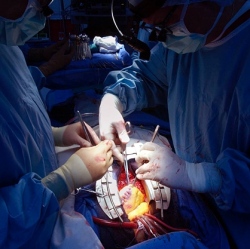 The number of organ transplants is continuing to rise, but the UK still lags behind other countries, official figures show. There were 4,655 transplants carried out in 2013-14 – a 10% rise on the year before and the eighth year in succession the numbers have gone up. But three people a day still died because of a shortage of donors.

By 2020 the NHS wants to increase the donor rate by more than 50%. That would bring the UK in line with the best performing countries such as Spain. The big push in recent years has been translating the number of people on the donor register – just over 20 million currently – into organs being made available.

Four in 10 families block organ donation after a loved one has died, despite them being registered as an organ donor. Hospitals have increasingly been employing more specialist organ-donation nurses to approach and support bereaved relatives in hospitals to try to rectify this.