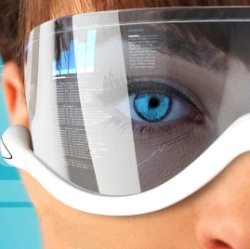 What that "True AR" mode effectively amounts to is a tilting display, one that can sit just below your eye-level for a "dashboard view" of incoming messages and other notifications, or moved right into your field of vision if you plan on going full-RoboCop.

Google's Glass by comparison always places onscreen information above your eye-line.

Other specs include an eye-searing 3,000 nits brightness level, an ambient light sensor, a rechargeable battery good for between 4 and 8 hours of usage and a display that (when positioned right in front of your eyes) is the equivalent of having an 85-inch TV dangling off your face.

Facing off against Google isn't an enviable position to be in, but Optinvent looks to be making some sensible early moves by making it as easy as possible for developers to get to work on apps for the glasses. Using Android Jelly Bean 4.1.2, Optivent have had Wikitude rustle up an SDK to go along with the hardware.

A developers edition of the Ora-S can be picked up now from the Optinvent website for 700 Euros (around £580) and will ship in December, while the consumer edition, pencilled in for a 2014 launch, is promised to be considerably cheaper, helped along in no-small part by a primarily plastic build.