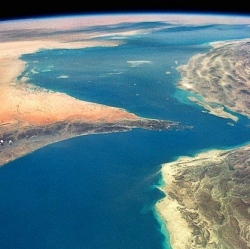 OneWeb Satellites, a joint venture between would-be constellation operator OneWeb and Airbus, has inaugurated the first serial-production line for its planned 900 communications satellites for OneWeb's low Earth orbit constellation. "This facility is a pivotal step toward our mission to build a global knowledge infrastructure, accessible to everyone'

"Over the past year, and thanks to the energizing support of our partners, we've greatly accelerated our technical progress. With this facility, we will be able to continuously iterate on the design of our satellites, launch new satellites within hours of completion and create significant opportunity in the U.S."

The high-volume satellite factory is being built in partnership with the state of Florida and Space Florida. The initiative is anticipated to create nearly 250 direct, highly skilled manufacturing and engineering jobs, as well as thousands more throughout a broad supplier base across the nation that will support production. It will bring further growth and development to the world's leading space industry in Florida and continue to draw suppliers and subcontractors to the area.

"This new American-built manufacturing facility is the latest example of Airbus' commitment to expanding our manufacturing footprint in the U.S.," said Allan McArtor, Chairman of Airbus Americas. "We already build civil and military helicopters in Texas and Mississippi, as well as commercial aircraft in Alabama. So, building satellites in Florida with our partner OneWeb continues the Airbus trend of growing U.S.-based manufacturing and jobs and staying close to our American supply chain, within which we invest $17 billion annually."

The first 900 production satellites will weigh only 150 kg, and will have better performance than much larger, more costly communications satellites today. The satellites will be used primarily by OneWeb for its global internet services, but the new low-cost, ultra-high performance satellites will be available for other commercial satellite operators and government customers globally as early as 2018. The satellites are designed with modularity in mind and are well-suited for multiple mission configurations. By using aircraft manufacturing technologies from Airbus, up to three satellites per day can be produced at the new factory on short schedules, at significant cost savings and without affecting the high levels of quality and technology.

"This factory will usher in a new era of innovation for satellite design and manufacturing that will enable us to lower overall program costs and shorten acquisition timelines for our customers to less than a year," said Holz. "These advancements will allow our customers to get to market and create value much faster than today."

The factory will include state-of-the-art automation, test equipment and data acquisition capabilities to shorten assembly times and provide a means to analyze factory performance and process improvements. Local contractors in Florida will support the project, and additional capability is expected to move into the region. This will be the first satellite manufacturing facility in Florida and the first in the U.S. located in close proximity to a launch site.

Oneweb user terminals will provide high-speed connectivity with no change in latency during satellite handovers to ensure excellent voice quality, gaming and web experience. Their patentpending terminals can be self-installed. They are small, affordable and so efficient they can operate with optionally included solar panels, battery packs, and WiFi/LTE/3G and 2G radios to provide coverage directly to cell phones, tablets and laptops.