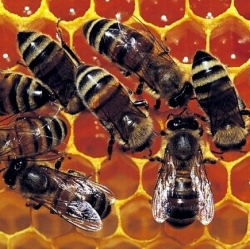 Europe is home to nearly 2,000 bee species, and yet a stunning 10 percent of them are facing extinction. This is even as pollinator populations around the world, consisting primarily of bees and butterflies, continue to dramatically decline, a significant worry for conservationists and agricultural experts alike.

"These results should be a wake-up call to the ecological disaster that is unfolding in Europe's countryside," Ariel Brunner, head of the European Union's policy at Birdlife, told The Guardian. She added that current agricultural practices such as pesticide use and poor land management are likely the main drivers of these declines, showing that it's very clear something is "horribly wrong" with business-as-usual.

The decline of these bee species was described in detail in a report recently released by the International Union for the Conservation of Nature (IUCN). The report is being provided while policymakers make their final decisions on how to ramp up the implementation of the EU 2020 Biodiversity Strategy, which was meant to help preserve declining key species since its adoption in 2012.

In it, investigators provide evidence that of all of Europe's pollinator populations, only 12.6 percent of them are at population levels that would be considered "stable." A rare 0.7 percent of the populations were also found to be actually increasing in number.

However, those are clear exceptions to the rule. The report details how numerous peer-reviewed studies involving more than 40 experts clearly show that most of Europe's bees are on the decline, and things like pesticide use, and expansive silage (compacted grasses for livestock feed) production, are depriving these essential parts of our ecosystems from the energy they need to keep working

The IUCN report also verifies something that experts have been discussing for years: that climate change is kicking the bees while they're down, and preventing them from recovering even after some harmful agricultural practices are halted. Extreme weather patterns causing more heavy rainfall or drought are shrinking bee habitats, and warmer weather means that invasive parasites are finding a stronger foothold in European territory.

"This assessment is the best understanding we have had so far on wild bees in Europe," added Jean-Christophe Vié, Deputy Director, IUCN Global Species Programme, added in a prepared statement. "However, our knowledge about them is incomplete as we are faced with an alarming lack of expertise and resources. Bees play an essential role in the pollination of our crops. We must urgently invest in further research in order to provide the best possible recommendations on how to reverse their decline."

IUCN Red List investigators concluded their report by describing how the decline of bees is not just a concern for insect lovers. A stunning 84 percent of the main crops grown for human consumption in Europe require insect pollination to enhance product quality and yields. Globally, insect pollination was estimated to account for 35 percent of net agricultural annual production. That pollination service is estimated to be worth $165.5 billion (USD) globally and €22 billion ($24b USD) in Europe every year.