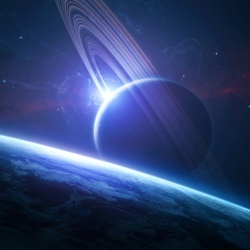 The U.S. government's secret space program has decided to give NASA two telescopes as big as, and even more powerful than, the Hubble Space Telescope. They just have to put cameras, spectrographs or other instrument, put the staff in place to manage them, and launch them into space.

Designed for surveillance, the telescopes from the National Reconnaissance Office were no longer needed for spy missions and can now be used to study the heavens.

They have 2.4-meter (7.9 feet) mirrors, just like the Hubble. They also have an additional feature that the civilian space telescopes lack: A maneuverable secondary mirror that makes it possible to obtain more focused images. These telescopes will have 100 times the field of view of the Hubble, according to David Spergel, a Princeton astrophysicist and co-chair of the National Academies advisory panel on astronomy and astrophysics.

The surprise announcement Monday is a reminder that NASA isn't the only space enterprise in the government — and isn't even the best funded. NASA official Michael Moore gave some hint of what a Hubble-class space telescope might do if used for national security:

"With a Hubble here you could see a dime sitting on top of the Washington Monument."

It is believed that the US has about seven Hubble class spy satellite telescopes in operation.

It would be 2020 before one of the two gifted telescopes could be in order.

This is definitely a game-changer for NASA's space science program. The unexpected gift offers NASA an opportunity to resurrect a plan to launch a new telescope to study the mysterious "dark energy" that is causing the universe's expansion to accelerate.

The scientific community had made the dark energy telescope its top priority in the latest "decadal survey" of goals in astronomy and astrophysics.

The two new telescopes — which so far don't even have names, other than Telescope One and Telescope Two — would be ready to go into space but for two hitches. First, they don't have instruments. There are no cameras, spectrographs or other instruments that a space telescope typically needs. Second, they don't have a program, a mission or a staff behind them. They're just hardware.

"The hardware is a significant cost item and it's a significant schedule item. The thing that takes the longest to build is the telescope," Spergel said. He added, however, "A big cost of any mission is always just people. One of the reason that James Webb has cost so much is that when it takes longer to complete any piece of it, you keep paying the engineers working on it, and you have these big marching-army costs."

NY Times – The two telescopes have a 94-inch-diameter primary mirror, just like Hubble, but are shorter in focal length, giving them a wider field of view: "Stubby Hubbles," in the words of Matt Mountain, director of the Space Telescope Science Institute, adding, "They were clearly designed to look down."

Dr. Grunsfeld said his first reaction was that the telescopes would be a distraction. "We were getting something very expensive to handle and store," he said.

Earlier this spring he asked a small group of astronomers if one of the telescopes could be used as they were to study dark energy.

The answer, he said, was: "Don't change a thing. It's perfect."

Astronomers have lobbied for a space mission to investigate dark energy ever since observations of the exploding stars known as supernovae indicated that the expansion of the universe was speeding up, the discovery that won three American astronomers the Nobel Prize. The fate of the universe, as well as the nature of physics, scientists say, depends on the nature of this dark energy.

But a decade of wrangling between agencies and astronomers over money and technical specifications had resulted in no consensus on a mission until 2010, when a committee of the National Academy of Sciences that was charged with determining astronomical priorities cobbled together a plan that would do the trick. In its report, "New Worlds, New Horizons," the committee gave that mission the highest priority in space science for the next decade.

Building the telescope can amount to a quarter to a half of the cost of a space astrophysics mission, astronomers said. Dr. Moore estimated that having it already could save the nation $250 million.

The telescope's short length means its camera could have the wide field of view necessary to inspect large areas of the sky for supernovae. Even bigger advantages come, astronomers say, from the fact that the telescope's diameter, 94 inches, is twice as big as that contemplated for Wfirst, giving it four times the light-gathering power, from which a whole host of savings cascade. Instead of requiring an expensive launch to a solar orbit, the telescope can operate in geosynchronous Earth orbit, complete its survey of the sky four times faster, and download data to the Earth faster.

Equipped with a coronagraph to look for exoplanets — another of Wfirst's goals — the former spy telescope could see planets down to the size of Jupiter around other stars.