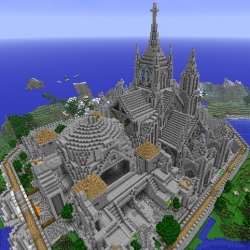 Minecraft: Pocket Edition was the top-grossing app for all of iOS on one of the biggest days of the year for gaming. Mojang, under ownership of Microsoft, made more money on Christmas with its block-building adventure than Clash of Clans, Game of War, or Candy Crush Saga.

This is notable because Minecraft costs $7 to purchase, and "premium-priced" games typically earn far less than free-to-play games with in-app purchases. Christmas is a big day for app developers. Smartphones and tablets are popular holiday gifts, and many people spend Dec. 25 finding and installing games and other apps for their new devices. App developers have found that this holiday is similar to what Black Friday is for console gaming.

Minecraft's continued success isn't that surprising as it is one of the most popular games among young children and teenagers. It's likely that parents purchased the Lego-like game for their kids after giving them an iPhone or iPad. It's also possible that many people gave gift cards for the holidays, and people used those to pick up Minecraft.