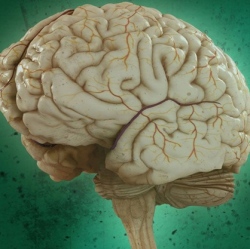 People suffering from migraines along with depression have a smaller brain size compared to people who don't suffer from these conditions, according to a new study.
Previous research has shown that migraine could lead to brain damage. In the present study, researchers tried to find whether having two conditions affects a person's brain size. About 12 percent of the U.S. population suffers from migraines and one in every 10 adults in the country has depression. Reduced brain volume has also been studied in people who suffer from anxiety and depression.

"Studies show that people with migraine have double the risk of depression compared to people without migraine. We wanted to find out whether having both conditions together possibly affected brain size," said Larus S. Gudmundsson, PhD, with the National Institute on Aging and the Uniformed Services University of the Health Sciences, in Bethesda, Md.
The study included more than 4,200 people of an average age of 51 years. The participants had been tested for migraine and depression between the years 1967 and 1991. They were again checked between 2002 and 2006 to see whether or not they had depression, migraine or both.
Brain volume of participants had been assessed via MRI. In the study, 37 people had a history of both depression and migraine, while 2,753 had none of these conditions.