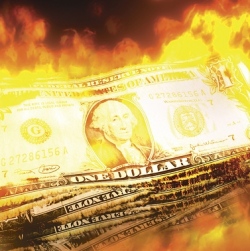 Microsoft, the once-dominant computer software giant that has seen its fortunes wane in recent years, posted its first quarterly loss since emerging as a public company in 1986 Thursday as it took a huge charge for a failed acquisition.

The Redmond, Wash.-based company reported a net loss of $492 million as its operating income was wiped out by a $6.2 billion writedown related to its acquisition of advertising company aQuantive in 2007. Microsoft wrote down almost the entire $6.3 billion purchase price.

Microsoft had announced earlier this month that it would take the writedown.

The charge was an acknowledgement that the company's struggling online services division is a significant financial drag on the company, losing nearly $2 billion over the past year in addition to the $6.2 billion writedown. Microsoft is still pouring money into runner-up search engine Bing, but it only has a fraction of the market share rival Google enjoys.

"It brings into question Microsoft's ability to compete on the advertising-driven web and suggests this is a market segment that is beyond Microsoft, creating long-term doubts over Bing's future," Rob Enderle, principal analyst at the Enderle Group, said via email.

In its news release announcing the results, Microsoft focused on its record revenues of $73.7 billion for the fiscal year just ended and $18 billion for the latest quarter, up 4 to 5 percent from year-earlier levels. The growth was led by server tools, business products such as Office, and entertainment and devices, which includes Xbox and the recently acquired Skype.