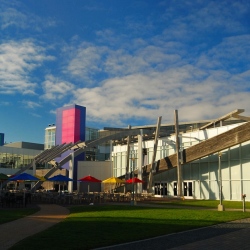 More than 100 teams are currently using machine learning at Google, from Street View to Gmail to Voice Search and more. For example, in Search, we use a ranking signal called RankBrain, which relies on deep learning to improve results. It's already enhancing the search experience in 40 languages.

And based on user testing, RankBrain can accurately guess which results users will favor with about 80% accuracy. Advances like this help us make our search results even more relevant.

Machine learning is also creating an impact in other ways. Just last week, we announced a test that applied DeepMind's machine learning to our own Google data centers, resulting in up to a 40% reduction in the energy we use for cooling.

They introduced two Cloud Machine Learning APIs for speech and natural language to help our enterprise customers convert audio to text and easily understand the structure and sentiment of the text in a variety of languages.

They introduced Tensor Processing Units, or TPUs, which can deliver an order of magnitude better optimized performance per watt for machine learning projects

A big part of making information available is making great content accessible, such as on Google Play, YouTube, and the Web. Our efforts to make the mobile Web better for everyone with Accelerated Mobile Pages, or AMP, has seen phenomenal global momentum. Google now has over 150 million AMP pages in their index, and with over 4 million new ones published every week from nearly 200 countries. They announced AMP for Ads, which helps advertisers build fast, simple, and beautiful ads and landing pages

They are working with Indian Railways and RailTel to bring high­speed wireless access to the entire Internet to millions of people who travel throughout India's top railway stations. There are already two million people logging in every month, and they are using as much as 15 times the data they would otherwise use in a full day on their cellular networks.

They are also working hard to ensure that their products work well for everyone, regardless of where they live. We have been expanding direct carrier billing in Google Play, with more than 100 partners in 40 countries. To give you a sense of the impact, in Indonesia alone, they have seen growth in monthly buyers quadruple in the last 18 months.