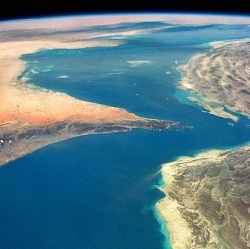 Earth-sized planets can support life at least ten times farther away from stars than previously thought, according to researchers at the University of Aberdeen and the University of St Andrews. A paper published in Planetary and Space Science claims cold rocky planets previously considered uninhabitable may be able to support life beneath the surface.

The team challenges the traditional "habitable zone" or "Goldilocks zone", the area of space around a star that can support life, by taking into consideration life living deep below the ground.

The traditional habitable zone is based on the premise that a planet needs to be not too close to its sun but also not too far away for liquid water to persist, rather than boiling or freezing, on the surface, said PhD student Sean McMahon.

"But that theory fails to take into account life that can exist beneath a planet's surface. As you get deeper below a planet's surface, the temperature increases, and once you get down to a temperature where liquid water can exist, life can exist there too."

The team created a computer model that estimates the temperature below the surface of a planet of a given size, at a given distance from its star.

"The deepest known life on Earth is 5.3 km below the surface, but there may well be life even 10 km deep in places on Earth that haven't yet been drilled. Using our computer model we discovered that the habitable zone for an Earth-like planet orbiting a sun-like star is about three times bigger if we include the top five kilometers below the planet surface.

"The model shows that liquid water, and as such life, could survive 5km below the Earth's surface even if the Earth was three times further away from the sun than it is just now.

"If we go deeper, and consider the top 10 km below the Earth's surface, then the habitable zone for an Earth-like planet is 14 times wider."

The current habitable zone for our solar system extends out as far as Mars, but this re-drawn habitable zone would see the zone extend out further than Jupiter and Saturn. The findings also suggest that many of the so-called "rogue" planets drifting around in complete darkness could actually be habitable.