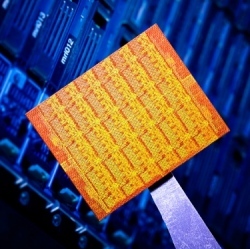 Given the sheer number of products that get unveiled at each CES, it's of no surprise that some will shine a bit brighter than others, causing people to do a double-take or drop their jaws.

This year, the first product to manage both of those for me is Kingston's DataTraveler HyperX Predator 3.0, a flash drive that boasts not only a seriously long name, but huge storage. How does 1TB sound?

Let's put this into perspective. About a year ago, I took a look at Kingston's first-ever HyperX flash drive, weighing in at 64GB. At the time, that was in all regards impressive – though not quite as impressive as the 256GB offering the company also had. It's not uncommon for technology to move at such a pace where densities can double each year, but I am not sure anyone expected Kingston to be announcing a drive today that quadruples last year's top-end model.

Despite its massive storage, Kingston was able to retain a modest size with Predator. The 64GB DT HyperX I mentioned before came in at 2.95″ x 0.92″ x 0.63″. By comparison, the Predator is a tad shorter but also a tad beefier at the sides, at 2.83″ x 1.06″ x 0.83″.

Performance-wise, Predator boasts SSD-like throughput at 240MB/s read and 160MB/s write. These speeds make the Predator not only useful to store large files, but store large files fast.

At Predator's retail launch, which should take place soon, only a 512GB model will become available. The 1TB model that I've been raving over will see its launch later in Q1. Unfortunately, the vital piece of information we'd all like to know isn't yet available: pricing. Given the fact that Kingston's smallest Predator offering is 512GB, we have to assume that these will not be consumer-focused, but are instead targeted at the business or workstation user. Either way, for what it offers, I think Predator is aptly-named.