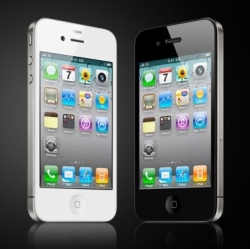 Images from the Chinese tech site C Technology appear to show packaging for the iPhone 5S, which sports a conspicuous silver ring around the home button. As we've explored, there are plenty of potential use cases for a fingerprint sensor in your smartphone, from making it easier to unlock the phone, to adding another level of security to your mobile wallet.

While there's no telling if these images are real, there's a strong case for a fingerprint sensor in the next iPhone. Apple spent $356 million to buy the fingerprint sensor company Authentec last year, recent rumors point to Apple implementing a convex home button (so you can rub your thumb against it) for fingerprint recognition, and there are also references to fingerprint scanning tech in an iOS 7 beta release. The Verge also points out that Fox News contributor Clayton Morris recently hinted that the next iPhone could have a silver ring around the home button.

Either someone has gone through the effort to make fake iPhone 5S boxes that correspond to the rumors (which honestly wouldn't be that hard to do), or we're looking at the real deal. Since Apple will likely announce the next iPhone in a few days, it's probably been manufacturing the phone and its accompanying materials for the past few weeks.