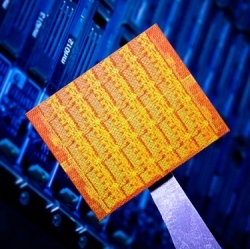 Analysts were expecting a consensus of 45 cents a share in the fourth quarter, down 30 percent from 64 cents a share a year ago. Those analysts expected revenue to fall 0.9 percent year-over-year to $13.76 billion for the quarter, compared to $13.89 billion a year ago.

Intel posted earnings per share of 48 cents a share and revenues of $13.5 billion. So the earnings were better while revenues matched expectations.
Intel's earnings are closely watched as a bellwether for the computer industry's health as well as the overall tech industry. But like Microsoft, Intel is heavily weighted on chips for PCs, even as market demand shifts to smartphones and tablets. While those latter sectors are growing, PCs are believed to have fallen 5 percent in unit sales in the fourth quarter, according to market research firm Gartner. In after hours trading, Intel's stock is up slightly 0.18 percent at $22.70 a share.
"The fourth quarter played out largely as expected as we continued to execute through a challenging environment," said Intel president and chief executive Paul Otellini in a statement. "We made tremendous progress across the business in 2012 as we entered the market for smartphones and tablets, worked with our partners to reinvent the PC, and drove continued innovation and growth in the data center. As we enter 2013, our strong product pipeline has us well positioned to bring a new wave of Intel innovations across the spectrum of computing."
Intel's PC Client Group had revenue of $8.5 billion, down 1.5 percent from the previous quarter and down 6 percent from a year ago. Data Center Group revenue was $2.8 billion, up 7 percent sequentially and up 4 percent from a year ago. Other revenue was $1 billion, down 14 percent sequentially and down 7 percent from a year ago. Research and development and general sales and marketing spending was $4.6 billion, in line with the expectation of $4.5 billion. Gross margin percentage was 58 percent, 1 percentage point above the expectation of 57 percent.