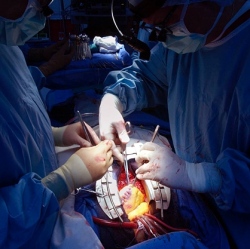 A startup has developed new technology that it claims can open a new front in the war on cancer. Guardant Health has developed a non-invasive screening tool that relies on a blood sample rather than tissue.

The test, dubbed the "Guardant 360," is designed to help patients avoid risky and expensive biopsies. Biopsies can cost up to $10,000 for people not covered by insurance. By contrast, Guardant expects its test to be available for a few hundred dollars.

The Redwood City, Calif.-based company announced this week that it will begin selling its genetic screening tool to some 100,000 patients in a handful of cancer clinics. Guardant also disclosed that it has raised $10 million in capital from Sequoia Capital, a venture firm that is increasingly investing in the personalized medicine trend. Sequoia's health investor, Warren Hogarth, has joined the company's board.

Guardant chief executive Helmy Eltoukhy has a long career in biotech. He joined Illumina in 2008 after the biotech giant acquired his company Avantome just a few short months after he started it. Last month, Illumina made the shocking announcement that its new machine could slash the cost of genome sequencing to $1,000.