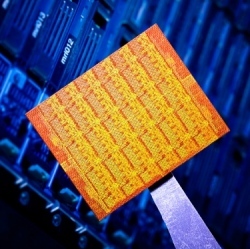 Tech companies have a preferred term to describe their most ambitious and meaningful projects: "moonshots."

Google chief executive Larry Page borrowed it from John F. Kennedy, who fifty years ago challenged Congress and the nation to put a man on the moon.

Today, IBM executives used the term to describe how the Watson super computer is fighting cancer, and a new initiative that is a veritable moonshot.

IBM's stab at bringing information technology to healthcare is more than just a publicity stunt. The technology giant is working closely with the MD Anderson Cancer Center at the University of Texas, which is one of the top cancer research facilities in the country. MD Anderson launched a program last year to eradicate eight different forms of cancer, with an initial focus on Leukemia.

MD Anderson's program has enjoyed tremendous financial support in its first year, with more than $139 million in private philanthropic commitments. Oil heiress Lyda Hill has donated $50 million to the program. The funding has gone to support new technologies, like the IBM Watson, and doctors performing new research on eight specific cancer types: melanoma, myeloid and lymphocytic leukemias, myelodysplastic syndromes, as well as lung, prostate, breast and ovarian cancers.

"I'm exceptionally optimistic about what the future holds in the potential treatment and eradication in these forms of cancer," said Steve Gold, IBM's vice president of marketing for Watson Solutions, in an interview.