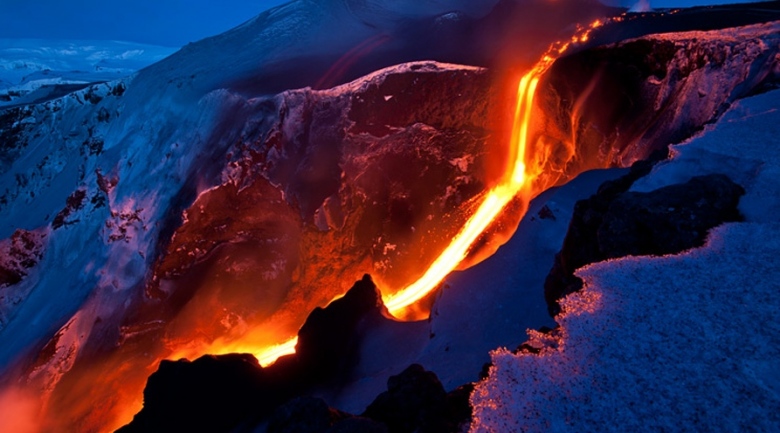 More than 200 million years ago, a massive extinction decimated 76 percent of marine and terrestrial species, marking the end of the Triassic period and the onset of the Jurassic.

This devastating event cleared the way for dinosaurs to dominate Earth for the next 135 million years, taking over ecological niches formerly occupied by other marine and terrestrial species.

It's not entirely clear what caused the end-Triassic extinction, although most scientists agree on a likely scenario: Over a relatively short period of time, massive volcanic eruptions from a large region known as the Central Atlantic Magmatic Province (CAMP) spewed forth huge amounts of lava and gas, including carbon dioxide, sulfur and methane. This sudden release of gases into the atmosphere may have created intense global warming and acidification of the oceans that ultimately killed off thousands of plant and animal species.

Now researchers at MIT, Columbia University and elsewhere have determined that these eruptions occurred precisely when the extinction began, providing strong evidence that volcanic activity did indeed trigger the end-Triassic extinction. Their results are published in the journal Science.

The team determined the age of basaltic lavas and other features found along the East Coast of the United States, as well as in Morocco — now-disparate regions that, 200 million years ago, were part of the supercontinent Pangaea. The rift that ultimately separated these landmasses was also the site of CAMP's volcanic activity. Today, the geology of both regions includes igneous rocks from the CAMP eruptions as well as sedimentary rocks that accumulated in an enormous lake; the researchers used a combination of techniques to date the rocks and to pinpoint CAMP's beginning and duration.

From its measurements, the team reconstructed the region's volcanic activity 201 million years ago, discovering that the eruption of magma — along with carbon dioxide, sulfur and methane — occurred in repeated bursts over a period of 40,000 years, a relatively short span in geologic time.

"This extinction happened at a geological instant in time," says Sam Bowring, the Robert R. Shrock Professor of Geology in MIT's Department of Earth, Atmospheric and Planetary Sciences. "There's no question the extinction occurred at the same time as the first eruption."