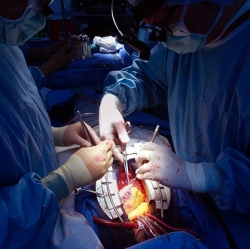 A system which uses an illusionary effect to help medical students master their subject has been pioneered by two London-based junior doctors. They have demonstrated a 3D graphic of a kidney measuring 4m (13 ft) to demonstrate renal function at a "test lecture" last week.

It was one of a series of hologram-like animations they are developing. However, the university which hosted the event, said it was not ready to be rolled out yet.

"The cost would be prohibitively expensive," said a spokesman for St George's, University of London. "It's more a proof-of-concept at this stage."
The effects were developed by Dr Kapil Sugand, who works at St George's Hospital and Imperial College London, and Dr Pedro Campos from St George's Hospital. The animations are not true holograms, but are rather based on an illusion called Pepper's Ghost which uses glass or foil combined with special lighting techniques to make objects appear in mid-air.

They said they wanted to make it easier for students to absorb the large amount of detail necessary to pass their exams. Medical students can attend up to nine hours of lectures per day and typically study for six years in order to qualify.

"Research in educational sciences has shown the attention span of the average student is 20 to 30 minutes, but standard lectures are at least an hour," Dr Sugand told the BBC.