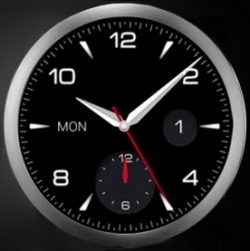 LG and Huawei have unveiled a range of new smartwatches featuring metal-framed circular designs. LG's Watch Urbane comes in two editions – a basic version powered by Android Wear, and a high-end one with a 4G chip and a new operating system. The latter can make and answer calls and send texts without needing to be linked to a phone.

The Huawei Watch uses Android Wear, and has a bigger display made out of sapphire crystal. To date, demand for computer-powered watches has been limited. Only 720,000 watches powered by Google's Android Wear were shipped in 2014 despite considerable publicity for the launches of the Moto 360, Asus ZenWatch and Samsung Gear Live, according to market research firm Canalys.

But sales are expected to jump in 2015, in part because Apple is releasing its Watch in April alongside a big budget marketing campaign, which may benefit the wider sector. The Watch Urbane models are LG's third and fourth smartwatches, and the Huawei Watch the Chinese firm's first.

"Huawei's market entry will accelerate price competition, but the increasingly crowded market, differentiation challenges and the looming Apple Watch will limit its opportunity," commented George Jijiashvili, wearables analyst at the tech consultancy CCS Insight. The announcements were made on the eve of the Mobile World Congress trade fair in Barcelona.

The 4G-enabled Watch Urbane LTE features a 1.3in (3.3cm) plastic OLED display, a brushed stainless steel frame, and has three buttons on its side. One of these acts as a panic alarm. When pressed it calls a preset phone number and sends details of the wearer's location – provided by its on-board GPS chip – to the recipient. In addition to making calls, it also provides a push-to-talk facility, acting like a walkie-talkie with other compatible devices on the same data network.

With four smartwatch models unveiled in less than a year, there's no doubting that LG is keen about wristwear. But analyst Carolina Milanesi told me these models were essentially about the firm proving its innovation credentials. She certainly doesn't expect them to fly off the shelves.

LG says its goal is to design a smartwatch that looks like a classic timepiece, but is packed with modern features,

The 4G-enabled Urbane feels like a step forward, but not a breakthrough. The watch suffers from multiple trade-offs that might be turn-offs for consumers. It's pretty beastly in size, for starters – it sits considerably high off the wrist. And the battery life only lasts beyond a single day if you just use it like a normal watch, ie without using any of its apps or "smart" functionality.

But of course, using a smartwatch "just as a watch" is largely pointless, particularly when a non-smart watch battery can last for several years. The challenge remains to try and get people interested in moving from classic watches, with their style and iconography, into souped-up tech equivalents.