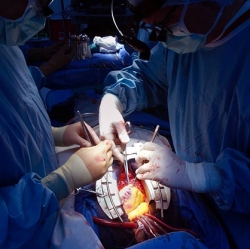 Death rates following hip replacement surgery fell by half in England and Wales between 2003 and 2011, a study in The Lancet has found. Although death within 90 days of surgery is rare, mortality decreased from 0.56% to 0.29% in an analysis of more than 400,000 patients.

The researchers said that fitter patients and better physiotherapy could be behind the decrease. They added that simple treatment options would reduce the risk further. Researchers from the universities of Bristol, Oxford, East Anglia and Exeter used data from the UK's joint-replacement database, the National Joint Registry, to look at death rates following this type of surgery.

In their study they found that 1,743 patients died within 90 days of surgery during the eight years. In 2004, 24,723 patients had hip replacement surgery and 139 of those died within 90 days.

While in 2011, there were 60,727 hip replacement operations carried out and 164 patient deaths. The reason for the fall in death rates could be down to a number of factors.

The researchers identified the use of a spinal anaesthetic as likely to lead to fewer complications. Specific treatments to stop blood clots after surgery were also linked to a lower risk of death.