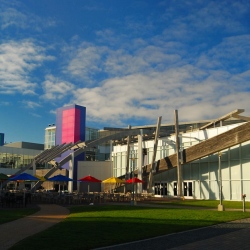 Google has been mentoring startups in Asia and Latin America since 2015, when it launched its launchpad accelerator program. The tech giant announced today that it will be expanding to include startups from European and African countries. Now, entrepreneurs from these regions can join the 47 graduates and 31 startups participating.

The equity-free program accepts applications from late-stage tech startups in emerging markets. The six-month training begins at the Google Developers Launchpad space in San Francisco, which opened last summer. This includes two weeks of mentorship from the Google team, top tech companies, and VCs in Silicon Valley.

In addition to the mentoring, participants receive credits for Google products, PR assistance, and continued support from Google back in their home country. These are the markets that can apply starting today:

Africa: Kenya, Nigeria, and South Africa

Europe: Poland, Czech Republic, and Hungary

They will be competing alongside Asian (India, Indonesia, Thailand, Vietnam, Malaysia, and Philippines) and Latin American (Argentina, Brazil, Chile, Colombia, and Mexico) countries.

Google joins the ranks of well-established global accelerator programs like 500 Startups and Techstars, but also other corporate accelerators like Microsoft's, which operates in Bangalore, Beijing, Berlin, London, Seattle, Shanghai, and Tel Aviv.

Google plans on expanding even further in the future to include more countries. "We chose emerging markets because that is where we see the biggest gap between the local innovation and potential and the expertise and investment," wrote Roy Glasberg, the accelerator program's leader, in an email to VentureBeat.