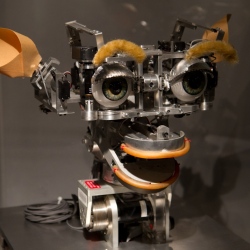 Google is on a shopping spree, buying startup after startup to push its business into the future. But these companies don't run web services or sell ads or build smartphone software or dabble in other things that Google is best known for. The web's most powerful company is filling its shopping cart with artificial intelligence algorithms, robots, and smart gadgets.

It's on a mission to build an enormous digital brain that operates as much like the human mind as possible and, in many ways, even better.

Yesterday, Google confirmed that it has purchased a stealthy artificial intelligence startup called DeepMind. According to reports, the company paid somewhere in the mid-hundreds of millions of dollars for the British outfit. Though Google didn't discuss the price tag, that enormous figure is in line with the rest of its recent activity.

The DeepMind acquisition closely follows Google's $3.2 billion purchase of smart thermostat and smoke alarm maker Nest, a slew of cutting-edge robotics companies, and another AI startup known as DNNresearch.

Google is looking to spread smart computer hardware into so many parts of our everyday lives, from our homes and our cars to our bodies, but perhaps more importantly, it's developing a new type of artificial intelligence that can help operate these devices, as well as its many existing web and smartphone services.

Though Google is out in front of this AI arms race, others are moving in the same direction. Facebook, IBM, and Microsoft are doubling down on artificial intelligence too, and are snapping up fresh AI talent. According to The Information, Mark Zuckerberg and company were also trying to acquire DeepMind.

Google's web search engine already uses a powerful type of artificial intelligence to find what you're looking for in the chaos of the web, and it has built an insanely profitable ad business atop this engine. But recently, the company has been bulking up its roster of geniuses as it seeks to explore a new branch of artificial intelligence known as "deep learning."

Basically, the idea is to mimic the biological structure of the human brain with software so that it can build machines that learn "organically", that is, without human involvement.