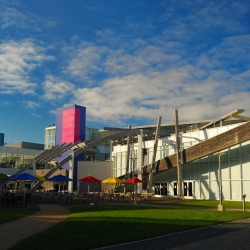 Bill Maris of Google Ventures has $425 million to invest this year, and the freedom to invest it however he wants. He will be looking in particular for the companies that aim to develop technologies that will slow aging, reverse disease, and extend life.

"If you ask me today, is it possible to live to be 500? The answer is yes," Bill Maris, president and managing partner of Google Ventures, said one January afternoon in Mountain View, California.

Google Ventures has close to $2 billion in assets under management, with stakes in more than 280 startups. Each year, Google gives Maris $300 million in new capital, and this year he'll have an extra $125 million to invest in a new European fund. That puts Google Ventures on a financial par with Silicon Valley's biggest venture firms, which typically put to work $300 million to $500 million a year.

According to data compiled by CB Insights, a research firm that tracks venture capital activity, Google Ventures was the fourth-most-active venture firm in the U.S. last year, participating in 87 deals.

Google has spent hundreds of millions of dollars backing a research center, called Calico, to study how to reverse aging, and Google X is working on a pill that would insert nanoparticles into our bloodstream to detect disease and cancer mutations.

"There are a lot of billionaires in Silicon Valley, but in the end, we are all heading to the same place," Maris says. "If given the choice between making a lot of money or finding a way to make people live longer, what do you choose?"

Foundation Medicine [Google Ventures has a 4 percent stake in the company] uses genetic data to create diagnostic oncology tools. In January, Roche Holding announced plans to take a majority stake in the company, in a transaction valued at $1 billion. The stock more than doubled the next day.

Foundation has products like its Interactive Cancer Explorer. It is a kind of Google for oncologists, allowing them to do research and devise treatments for their patients.

"Twenty years ago, without genomics, you could only treat cancer with a poison," Maris says. "That's really different from, 'We can cure your cancer by reverse-engineering a stem cell.' You can now legitimately invest in a company that could cure cancer."

Google Ventures biggest bet in life sciences is an investment in Flatiron Health. It is building a cloud platform to analyze cancer data.