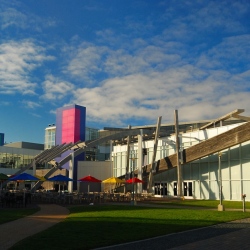 The handset, made by manufacturer LG, can also work as a games controller when wirelessly connected to a TV. Google said that the screen of the new Nexus 10 tablet by Samsung has "the world's highest resolution display".

UK prices for the Nexus 4 start at £239 for the 8GB version, and £319 for the 16GB Nexus 10. The Nexus 4 smartphone has a new panoramic camera tool called Photo Sphere which Google claims is "unlike any panorama you have ever seen".

"Snap shots up, down and in every direction to create stunning 360-degree immersive experiences," says the firm on its blog.
In addition users will have access to "Google Now" which flags up flight alerts, hotel recommendations and package tracking based on the user's location and the contents of their previous email messages.

Nexus 10 will be able to manage multiple profiles, meaning that the tablet can be shared between more than one person. Google says that there are more than 675,000 apps that will be available via its Google Play store. Apple claims that there are over 275,000 apps available for the latest version of iPad.

Nexus 10 has a 10in (25cm) screen with a resolution of 300ppi (pixels per inch). Its advertised battery life is 500 hours on standby or nine hours of video play.