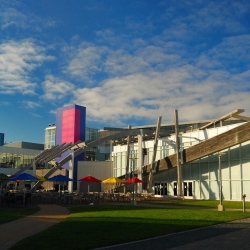 Sources tell that company executives have been discussing a plan to offer wireless service in areas where it's already installed Google Fiber high speed internet. There are hints that it's interested in becoming a mobile virtual network operator, buying access to a larger network at wholesale rates and reselling it to customers.

Sources say that Google spoke to Verizon about the possibility in early 2014, and that it talked to Sprint about a similar possibility in early 2013, before the company was officially acquired by Softbank.

Currently, Fiber networks have been built in Kansas City, Missouri and Provo, Utah; a network is planned in Austin, Texas in the near future. Google also hopes to expand into Atlanta, Georgia; Portland, Oregon; San Jose, California; and six other metro areas further down the line. Fiber has already put pressure on other broadband carriers: in the wake of Google's Austin announcement, AT&T quickly began installing its own high-speed fiber network, which it launched in late 2013.

A move into wireless would take aim at the Verizon and AT&T duopoly and would almost certainly further complicate Google's relationship with carriers, turning it from a producer of phones like the Moto X to a direct competitor. Google already competes indirectly with phone companies through video and voice services, which it's been operating in some capacity for several years.