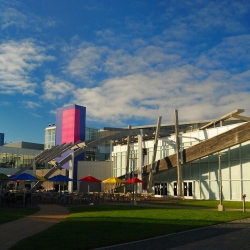 In its bajillionth green energy investment, Google has targeted the Jasper Power Project, a South African solar plant.
The investment totals $12 million and marks the search company's first investment in Africa. This sum is part of a larger $260 million round including investors such as SolarReserve, a U.S. solar power developer; Intikon Energy, a South African renewable energy developer; and the Kensani Group, a South African empowerment investment firm.
The Jasper Power Project will be an advanced photovoltaic plant capable of generating 96 MW of clean energy for residents of South Africa. The project is designed not only to meet the country's renewable energy goals but also to create long-term jobs and economic opportunity.
"Back in 2008, South Africa experienced a severe energy shortage, which resulted in blackouts throughout the country and slowed down economic growth," writes Google energy and sustainability director Rick Needham today on the company blog.
"Since then, the South African government has been actively supporting the growth of new sources of electricity to power the nation. … Given South Africa's position as an economic powerhouse in Africa, a greener grid in South Africa can set an example for the whole continent."