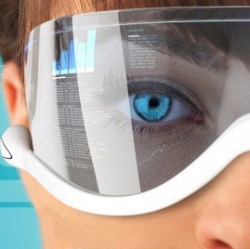 Google Glass is shaping up to be quite the buzz generator, despite the fact that it'll be crazy expensive when it arrives later this year. Google took to South By Southwest (SXSW) on Monday to announce that Glass will have its very own library of apps for users to pick and choose from.

Along with built-in Google+ integration, customized versions of Gmail, The New York Times, Evernote, Skitch, and Path were all shown off or announced at SXSW, according to according to TechCrunch. Naturally, the amount of information Glass apps will be able to display will differ from their smartphone and tablet counterparts due to disparities in screen sizes.

Apps built for Glass will be heavily condensed and will emphasize the device's voice, camera, and text-to-speech strengths. For example, news apps such as The New York Times will only show headlines. Users can then "read" the full story by telling Glass to "read aloud." Google is apparently setting rules on what Glass-optimized apps can or can't do in order to make them less distracting.

The announcement of Path and Evernote also opens up the possibility for sharing photos, videos, and status updates to social networks other than Google+. Then again, having a Facebook or Twitter feed in the corner of your eyesight might not be such a great idea, either.

Google didn't mention games at its SXSW panel, but we wouldn't be surprised if hackers manage to get an eyeball-controlled version of Angry Birds running. You can see a presentation on how some apps will work on Glass in the video below.