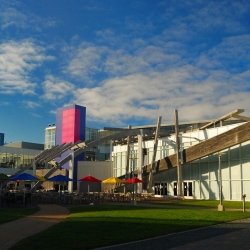 The executive leading search giant Google's fibre optic roll out in three US cities says it is a myth that internet users do not want or cannot use faster broadband speeds than are now available.

Kevin Lo, who led Google's foray into building its own fibre network in Kansas City in 2010, said entrepreneurs would "rise to the occasion" to build applications capable of taking advantage of broadband speeds up to a gigabit, 200 times the average download speeds available in Australia today.

"There's huge consumer demand out there for fast internet and we believe that faster internet speeds will lead to what we refer to as the next chapter of the internet," Mr Lo said at the Broadband World Forum conference in Amsterdam on Tuesday.

"Just like the last step function improvements in speed going from dial-up to broadband brought about all the current applications we use today – from streaming video, photo sharing, video conferencing online – we're confident that the next 100x improvement in speeds will lead to innovation."

The utility of fast broadband has been one of contentious debate in Australia and globally.

The Coalition government has based its policy to slim down the national broadband network roll out partly on the notion that Australians do not need to access speeds of 100 megabits per second or a gigabit in the short-term.

Internet services company Akamai says Australian users now have an average broadband speed of 4.8 megabits per second and just 5 per cent of the country has double that speed despite the NBN roll out.

Steve Unger, the chief technology officer of UK communications watchdog Ofcom, said on Tuesday that increasing customers' broadband speeds beyond 10 megabits per second did not automatically change the number or type of online applications they used.

But Mr Lo said businesses were likely to offer new applications "that we can't even imagine at this point in time" in markets where broadband speeds and adoption were high.

He said Google decided to build its own fibre network in 2010 to explore how users would take advantage of faster internet speeds, through Google and other services.