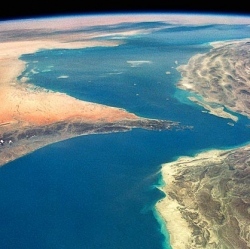 The perfect use-case for the new "big data" tools? Weather prediction. Most people don't realize that it takes a highly complex web of super computing technology and infrastructure to predict the onset of something like Hurricane Sandy and get citizens prepared.
A company called GeoMetWatch just closed a $6 million funding round to improve the accuracy of weather prediction. It will use the capital to deploy six data-gathering sensors into orbit, 22,236 miles above the equator. The company will rent space for the sensors on standard communications satellites.
The sensors will gather atmospheric data, which will be analyzed and conveyed to data centers.
GeoMetWatch hopes to provide information about potentially severe weather and help governments better prepare citizens for hurricanes and tornadoes. The company will sell this data to customers at a fraction of the cost of current methods.
Earlier this month, GeoMetWatch entered into a Space Act Agreement with NASA to provide four years of weather data.
The team behind GeoMetWatch partnered with Utah State University, where the idea was developed and commercialized. According to the website, the technology behind the sensors was developed by the U.S. Government for over $400 million.
The university is also home to the Advanced Weather Systems Foundation, which supports research and innovation in this space.