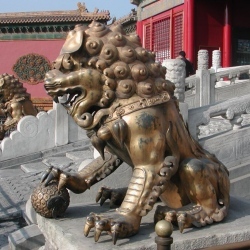 Reach for the sky: the world's tallest buildings, once the 838-meter Sky City is completed, projected for January 2013.
The Wall Street Journal had some more details about the Sky City project.

Once it's done, Sky City will boast 220 floors, 1 million square meters of floor space and 104 elevators, according to the preliminary plans. More than 80% of the floor area will be devoted to housing for 174,000 people, with a hotel, school, hospital, offices, shops and restaurants taking up the remainder. The building would use up 200,000 tones of steel and be able to accommodate as many as 314,000 people at any given time, Broad said, adding that the official plans will be released around August.

China pessimist Gordon Chang discusses his view of the politics of the Broad Group's Sky City project

Changsha, the capital of China's Hunan province, has just granted approval for the world's tallest building. On the fifth of this month, the Wangcheng district government signed a contract with Broad Group, a local firm, which promised to put up the 838-meter tower in seven months.
Seven months? If all goes according to plan, Tiankong Chengshi—Sky City—will be completed sometime next January.
Broad originally planned a 666-meter skyscrapper, but the local government wanted the world's tallest. That's a dead giveaway politics are distorting the economics of the project.
There are few coincidences in that country, so Sky City fans must surely have been pleased when China Daily on May 19 highlighted their favorite city. "The development of central China will be a pillar of the nation's economic growth amid the slowly recovering global economy and China's cooling GDP expansion," wrote the official newspaper as it touted Expo Central China 2012, held in Changsha. Said Vice Premier Wang Qishan at the event, "The development of the central region has become an important factor supporting China's economic growth and is closely related to the transformation of the country's economic growth pattern and the adjustment of its economic structure."
Broad's timing, therefore, is perfect. Sky City may just get central government approval—and state bank support—after all.