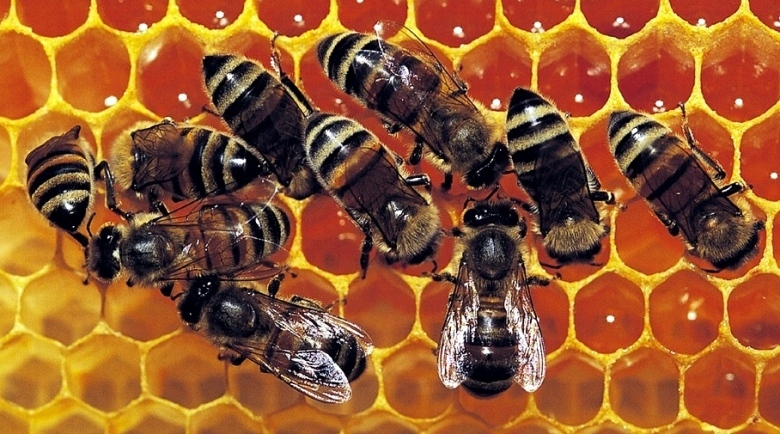 ince approximately 2006, groups that manage commercial honeybee colonies have been reporting what has become known as colony collapse disorder—whole colonies of bees simply died, of no apparent cause. As time has passed, the disorder has been reported at sites all across the world, even as scientists have been racing to find the cause, and a possible cure. To date, most evidence has implicated pesticides used to kill other insects such as mites. In this new effort, the researchers have found evidence to suggest the real culprit might be high-fructose corn syrup, which beekeepers have been feeding bees as their natural staple, honey, has been taken away from them.
Commercial honeybee enterprises began feeding bees high-fructose corn syrup back in the 70's after research was conducted that indicated that doing so was safe. Since that time, new pesticides have been developed and put into use and over time it appears the bees' immunity response to such compounds may have become compromised.
The researchers aren't suggesting that high-fructose corn syrup is itself toxic to bees, instead, they say their findings indicate that by eating the replacement food instead of honey, the bees are not being exposed to other chemicals that help the bees fight off toxins, such as those found in pesticides.
Specifically, they found that when bees are exposed to the enzyme p-coumaric, their immune system appears stronger—it turns on detoxification genes. P-coumaric is found in pollen walls, not nectar, and makes its way into honey inadvertently via sticking to the legs of bees as they visit flowers. Similarly, the team discovered other compounds found in poplar sap that appear to do much the same thing. It all together adds up to a diet that helps bees fight off toxins, the researchers report. Taking away the honey to sell it, and feeding the bees high-fructose corn syrup instead, they claim, compromises their immune systems, making them more vulnerable to the toxins that are meant to kill other bugs.