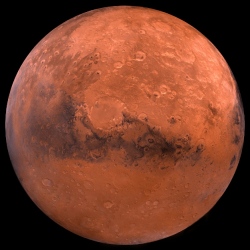 France and India will put a lander on Mars in a bid to explore the planet, according to the chief of the French space agency. Jean-Yves Le Gall confirmed that France is ready to work with India to plant both flags on Mars as well as on Venus. India's Mars Orbiter Mission, Mangalyaan, arrived on Mars Sept. 23, 2014 as its first-ever Mars probe.

In fact, the orbiter was the country's first interplanetary mission ever launched, a $74 million program aiming to demonstrate its technological capability. Now the French are "very, very impressed" with the mission of the Indian Space Research Organization (ISRO) so far.

"In France, we have very skilled scientists for both Mars and Venus. Since there is already a project to explore Mars in India, we implemented an agreement to co-operate in the future on this project," Le Gall said in an interview, highlighting India's role as their second biggest partner in space technologies (outside Europe).

The next Indian mission to Mars will therefore be injected with "a piece of French expertise," Le Gall added, expressing readiness to work on crafting a lander since a satellite is already orbiting Mars.

As the price tag of space missions has become friendlier, a Venus mission is also deemed possible in the planned partnership. The two countries also inked a separate deal on a new thermal imaging satellite, said to be a follow-up of the Paris climate change conference. There are already two Indo-French space satellites for climate observations, namely the Megha-Tropiques launched in 2011 and SARAL-ALTIKA launched in 2013.

The new satellite, explained Le Gall, will observe Earth's surface in thermal-infrared, a special wavelength band that will help monitor climate patterns and developments. The venture will help scientists better understand the effects of climate change on vegetation.

Other agreements were also signed at the Indo-French Summit in January, including France putting an ARGOS payload on India's forthcoming OceanSAT satellite. It will be devoted to search and rescue beacons utilizing space as its platform.

Le Gall lauded the dedication he sees when he visits ISRO sites. "[T]here is the kind of enthusiasm and freshness, which is very, very refreshing, which leaves a lot of room for optimism in the future," he said.