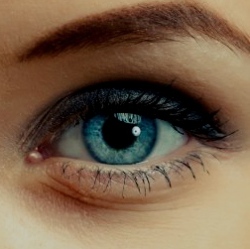 Fove is taking preorders for a very different kind of VR headset, one that enables you to control games and other apps using your eye movements. I tried it out, playing a shooter game demo in VR by staring at targets. Fove hopes to reach nearly 25 million monthly uses through 7,000 Internet cafes. The headset is discounted for its first week at $550.

Headsets will begin shipping to original Kickstarter backers by the end of 2016, while all other preorders will begin shipping early next year. "Eye-tracking is really critical for VR control," said Fove CEO Yuka Kojima in an interview with GamesBeat. "For me, it's so natural. This is for early adopters now. But soon we think it will be a world standard."

Fove designed everything for the eye-tracking VR headset, said Jim Preston, director of business development at Fove. It uses six infrared sensors per eye inside the headset to track the direction of a person's gaze, changing focus on objects within a scene with a high level of precision, creating immersive and natural interactions with virtual worlds and characters. By focusing where a user is looking, Fove is able to simulate greater depth of field and create a more natural image by blurring unfocused peripheral areas, all the while minimizing motion sickness by reducing the need for unnatural head movements.

The headset has a OLED screen (2,560-by-1,440), with a frame rate of 70 frames per second. It has a 100-degree field-of-view. It uses a 120 FPS infrared eye-tracking system and two cameras. It weighs 520 grams, and has HDMI, USB 3.0, and USB 2.0 connectors. The headset connects to a Windows PC, and it requires a system with an Intel Core i5-4590 or better or and AMD Radeon R9 290 or Nvidia GeForce GTX 970 or better.

Preston said the task of designing the headset wasn't easy, as Fove figured out that headsets tend to move around on a person's head and lose calibration. So the Fove headset takes such "drift" into account. The company has applied for a number of patents.

The Fove 0 will ship to Kickstarter backers in all countries across the globe. Preorder headsets will ship to the following countries: Australia, Austria, Belgium, Bulgaria, Canada, Czech Republic, Denmark, Finland, France, Germany, Greece, Hungary, Ireland, Italy, Japan, Luxembourg, Netherlands, New Zealand, Norway, Poland, Portugal, South Korea, Spain, Sweden, Switzerland, Taiwan, United Kingdom and the United States.

Live demos of the headset, including "Project Falcon," a first-person rail-shooter developed in partnership with creative production company, Rewind, will be held at the VRDC event in San Francisco.

Founded in May 2014, Fove is targeting entertainment, education, gaming and medical industries with gaze control in virtual reality interfaces. Fove is the first batch member of River, the first Virtual Reality acceleration program by Rothenberg Ventures. The name Fove comes from "foveated rendering," a process wherein the graphics on the side of an image remain blurry and only the parts you are looking at directly are sharp.

Kojima said she started the company with Lochlainn Wilson because she felt like the artificial intelligent characters (NPCs, or nonplayer characters) were so dumb. She and her cofounder thought that real people would create a much better experience inside a social game. The company did a successful Kickstarter crowdfunding campaign, raising $500,000. It is now shipping headsets to those Kickstarter supporters.

"People say that VR encourages isolation and miscommunication," Kojima said. "But I don't think so. I think it can improve communication."

Fove also completed the Microsoft Ventures London Accelerator Program in December 2014, and was a semi-finalist at TechCrunch Disrupt Battlefield in 2014. Fove has raised over $480,000 through its Kickstarter campaign in 2015, and most recently raised $11 Million in venture funding from Samsung, Colopl VR Fund, Hon Hai (parent of Foxconn), and Mistletoe.

Rivals include Eyefluence, which Google bought in October. Fove works with an estimated 258 Steam VR titles automatically, Kojima said. But Fove is also working with game developers to put eye-tracking features in games.