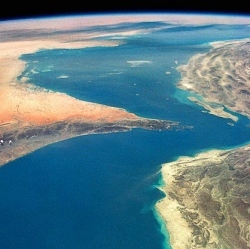 Google's balloon-powered high-speed Internet service known as 'Project Loon' began its first tests in Sri Lanka Monday ahead of a planned joint venture with Colombo, the country's top IT official said. One of three balloons that will be used in the trials entered Sri Lankan airspace Monday.

'The first balloon entered our airspace this morning. It was launched from South America,' Canagey told AFP. 'It is currently over southern Sri Lanka.' He said a Google team was expected later this week to test flight controls, spectrum efficiency and other technical matters.

The government announced earlier this month it would take a 25 percent stake in a joint venture with Google to deliver a high-speed Internet service powered by helium-filled balloons.

Sri Lanka is not investing any capital, but will take the stake in return for allocating spectrum for the project. The inflatable part of the balloon is called a balloon envelope made from sheets of polyethylene plastic that are 49ft (15 meters) wide and 40ft (12 meters) tall when inflated.

The balloons harness power from card table-sized solar panels that dangle below them, and they can gather enough charge in four hours to power them for a day.

Each balloon can provide connectivity to a ground area of around 25 miles (40km) in diameter using LTE, also referred to as 4G, technology. The balloons will have a lifespan of about 180 days, but can be recycled, according to Sri Lankan officials involved in the venture.

Official figures show there are 3.3 million mobile Internet connections and 630,000 fixed line Internet subscribers among Sri Lanka's more than 20 million population.