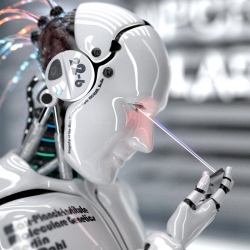 FACIAL recognition technology is a staple of sci-fi thrillers like "Minority Report."

But of bars in Chicago?

SceneTap, a new app for smart phones, uses cameras with facial detection software to scout bar scenes. Without identifying specific bar patrons, it posts information like the average age of a crowd and the ratio of men to women, helping bar-hoppers decide where to go. More than 50 bars in Chicago participate.

As SceneTap suggests, techniques like facial detection, which perceives human faces but does not identify specific individuals, and facial recognition, which does identify individuals, are poised to become the next big thing for personalized marketing and smart phones. That is great news for companies that want to tailor services to customers, and not so great news for people who cherish their privacy. The spread of such technology — essentially, the democratization of surveillance — may herald the end of anonymity.

And this technology is spreading. Immersive Labs, a company in Manhattan, has developed software for digital billboards using cameras to gauge the age range, sex and attention level of a passer-by. The smart signs, scheduled to roll out this month in Los Angeles, San Francisco and New York, deliver ads based on consumers' demographics. In other words, the system is smart enough to display, say, a Gillette ad to a male passer-by rather than an ad for Tampax.

Those endeavors pale next to the photo-tagging suggestion tool introduced by Facebook this year. When a person uploads photos to the site, the "Tag Suggestions" feature uses facial recognition to identify that user's friends in those photos and automatically suggests name tags for them. It's a neat trick that frees people from the cumbersome task of repeatedly typing the same friends' names into their photo albums.

"Millions of people are using it to add hundreds of millions of tags," says Simon Axten, a Facebook spokesman. Other well-known programs like Picasa, the photo editing software from Google, and third-party apps like PhotoTagger, from face.com, work similarly.

But facial recognition is proliferating so quickly that some regulators in the United States and Europe are playing catch-up. On the one hand, they say, the technology has great business potential. On the other, because facial recognition works by analyzing and storing people's unique facial measurements, it also entails serious privacy risks.

Using off-the-shelf facial recognition software, researchers at Carnegie Mellon University were recently able to identify about a third of college students who had volunteered to be photographed for a study — just by comparing photos of those anonymous students to images publicly available on Facebook. By using other public information, the researchers also identified the interests and predicted partial Social Security numbers of some students.