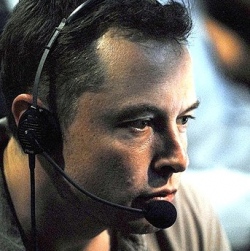 Business Week has a lengthy feature on Elon Musk.
Elon Musks Hyperloop transportation system is discussed but there are still very few details.

His friends claim he's had a Hyperloop technological breakthrough over the summer. "I'd like to talk to the governor and president about it," Musk continues. "Because the $60 billion bullet train they're proposing in California would be the slowest bullet train in the world at the highest cost per mile. They're going for records in all the wrong ways." The cost of the SF-LA Hyperloop would be in the $6 billion range, he says.
Musk is also planning to develop a new kind of airplane: "Boeing just took $20 billion and 10 years to improve the efficiency of their planes by 10 percent. That's pretty lame. I have a design in mind for a vertical liftoff supersonic jet that would be a really big improvement."

Musk put is Zip2 money into X.com and Paypal.

Musk poured his Paypal fortune into SpaceX, Tesla, and SolarCity, and funded a data-center software company called Everdream, among other ventures.

Musk was nearly broke when Dell (DELL) acquired Everdream, of which Musk was the major shareholder, for $120 million.

Next year, SpaceX looks to launch eight flights, and as many as 16 the following year. If it hits those goals, SpaceX would be handling the majority of the world's commercial spaceflights. (Companies like Virgin Galactic are offering trips for tourists.) In three years, SpaceX intends to send people to the space station for $20 million each, rather than the $63 million charged today. SpaceX may be Musk's most solid performer—it already turns a profit as it works through its backlog of orders.

Steve Jurvetson, a SpaceX board member and early investor in everything from Tesla to HotMail to Synthetic Genomics, says Musk has unusual intuition about what will work in space. Musk has come up with modular designs for mixing and matching engine configurations depending on the payload, says Jurvetson.

"The next six months will be about really proving things for Tesla," Musk says. "We need to get in excess of 20,000 units a year and in excess of 25 percent gross margins, which would be close to the highest in the car business." SpaceX has a backlog of about $3 billion booked from spaceflight customers through 2017, but still has to successfully execute all those launches using equipment it hasn't finished developing. Musk's goals go well beyond cash-flow statements, however. "We don't have sustainable energy production solved," he says, "and we are not a multiplanetary species."

Kevin Rose Interviewed Elon Musk

Digg founder and Google Ventures partner Kevin Rose recently sat down with Tesla Motors CEO Elon Musk for the twentieth episode of Foundation, a video series in which he interviews influential business leaders in the tech community. Their wide-ranging talk touched on Musk's affinity for comic books, his youthful attempt to get hired at Netscape by hanging out in the lobby (it didn't work), his admiration for Ben Franklin, the impetus to create an electric car company and his imminent Hyperloop solar-powered high-speed land travel project. It's offered here first.