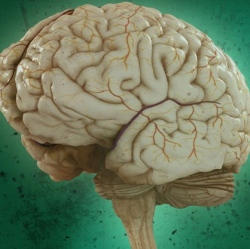 Details of how a drug could slow the pace of brain decline for patients with early stage Alzheimer's disease have emerged. Data from pharmaceutical company Eli Lilly suggests its solanezumab drug can cut the rate of the dementia's progression by about a third. The results are being met with cautious optimism.

A new trial is due to report next year and should provide definitive evidence. The death of brain cells in Alzheimer's is currently unstoppable. Solanezumab may be able to keep them alive. Current medication, such as Aricept, can manage only the symptoms of dementia by helping the dying brain cells function.

But solanezumab attacks the deformed proteins, called amyloid, that build up in the brain during Alzheimer's. It is thought the formation of sticky plaques of amyloid between nerve cells leads to damage and eventually brain cell death.

Solanezumab has long been the great hope of dementia research, yet an 18-month trial of the drug seemingly ended in failure in 2012. But when Eli Lilly looked more closely at the data, there were hints it could be working for patients in the earliest stages of the disease.

It appeared to slow progression by around 34% during the study. So the company asked just over 1,000 of the patients in the original trial with mild Alzheimer's to take the drug for another two years. And positive results from this extension of the original trial have now been presented at the Alzheimer's Association International Conference.

They show those taking the drugs the longest had the most benefit. Dr Eric Siemers, from the Lilly Research Laboratories, in Indiana, told the BBC: "It's another piece of evidence that solanezumab does have an effect on the underlying disease pathology.

"We think there is a chance that solanezumab will be the first disease-modifying medication to be available."