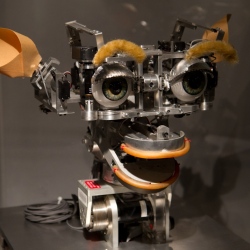 The National Science Foundation (NSF), in partnership with NIH, USDA and NASA, has announced about $38 million in investment for developing robots that cooperatively work with people to enhance individual human capabilities, performance and safety.

The 30 new projects, funded projects target the creation of next-generation collaborative robots (co-robots) for advanced manufacturing; civil and environmental infrastructure; health care and rehabilitation; military and homeland security; space and undersea exploration; food production, processing and distribution; independence and quality of life improvement and driver safety.

This year's projects include research to improve robotic motion — advancing bipedal movement, dexterity and manipulation of robots and prostheses — and robotic sensing–advancing theories, models and algorithms to share and analyze data for robots to perform collective behaviors with humans and with other robots.

The projects also aim to enhance 3-D printing, develop co-robot mediators, improve the training of robots, advance the capabilities of surgical robotics, provide assistive robots for people with disabilities, and improve the capability of robots for lifting and transporting heavy objects and for dangerous and complex tasks like search and rescue during disaster response.

These mark the second round of funding awards made through the National Robotics Initiative (NRI) launched with NSF as the lead federal agency just over two years ago as part of President Obama's Advanced Manufacturing Partnership Initiative. A full listing of the NRI investments made by NSF is available on NSF's NRI Program Page.

NIH announced investments in three projects totaling approximately $2.4 million during the next five years (see Robots designed to assist people with disabilities, aid doctors)

USDA announced five grants totaling $4.5 million to spur the development and use of robots in American agriculture production. These awards include research projects to develop robotics for fruit harvesting, early disease and stress detection in fruits and vegetables and water sampling in remote areas.