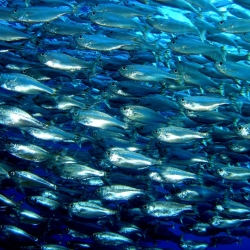 The researchers said the oceans' lowest reaches had untold riches that could benefit mankind enormously, but not if the harvesting were done destructively. The scientists called for a "new stewardship" of the deep sea. This would require effective ecosystem management and sustainable methods of exploitation.

The researchers said the fishing sector had already initiated some very damaging practices, such as the widely criticised use of heavy-rolling, sea-floor nets, but that there was still time for other sectors to take more sensitive approaches.

This includes the imminent development and spread of industrial-scale deep-sea mining. The ocean floor is being targeted as a source for a range of metals and minerals. Part of this is driven by the insatiable appetite for modern technology devices like cell phones and hybrid cars.

The battery in a Toyota Prius hybrid car, for example, requires more than 10kg of lanthanum.

Large tracts of sea bed have now been licensed to permit the prospecting of manganese nodules, cobalt crusts, massive sulphides to produce copper and zinc, and even phosphates to make fertilisers. Some of these licences are certain to turn into full-mining permissions this decade.