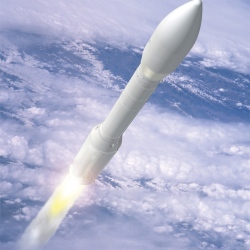 The contracts are part of the Airborne Launch Assist Space Access (ALASA) program, which seeks capability to launch a 100-pound satellite for a total cost of less than $1 million, which is about one-third of today's satellite launch costs.

The goal of ALASA is to develop a significantly less expensive approach for launching small satellites routinely with at least a threefold reduction in costs compared to current military and U.S. commercial launch costs. Small satellite payloads today cost more than $30,000 per pound to launch. ALASA seeks to launch 100-pound satellites for less than $10,000 per pound, or $1 million total, including range support costs.

DARPA awarded the first ALASA contract for $1.9 million in late March to Space Information Laboratories LLC in Santa Maria, Calif. Other ALASA contractors are Ventions LLC in San Francisco, which won a $969,396 contract on 2 April; the Boeing Co. in Huntington Beach, Calif., which won a $4.5 million contract on 3 April; Northrop Grumman Corp. in El Segundo, Calif., which won a $2.3 million contract on 19 April; and Lockheed Martin Corp. in Palmdale, Calif., which won a $6.2 million contract on 25 May.

The ALASA project will support small satellite programs such as the Space Enabled Effects for Military Engagements (SeeMe) program, which DARPA is pursuing in efforts to launch constellations of temporary and inexpensive orbiting satellites quickly enough to support fast-moving military operations.

SeeMe satellites should cost no more than $500,000 each, not counting launch and ground-support operations. The program seeks to deliver a constellation of small reconnaissance satellites within 90 days order at a cost of about $12 million.