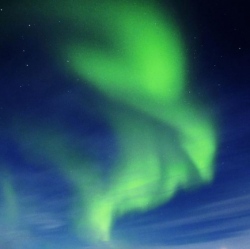 For the first time, dark matter may have been caught interacting with other dark matter in a cluster 1.4 billion light-years away. Previous studies of colliding galaxy clusters have shown that dark matter barely interacts with anything. And the finding, published in Monthly Notices of the Royal Astronomical Society, may hint at exotic physics, beyond the scope of current theories.

According to widely accepted ideas, the visible matter in galaxies exists inside clumps of dark matter. Without dark matter's gravity to stabilise them, galaxies like the Milky Way would tear themselves apart as they spin.

Yet despite its all-importance, dark matter's true nature remains elusive. It has been shown only to interact with the fundamental force of gravity. And while it is widely believed to be associated with a specific particle, the current theory of physics known as the Standard Model does not account for one.

A team of astronomers led by Dr Richard Massey of Durham University studied a simultaneous collision of four galaxies in the cluster Abell 3827. Although dark matter cannot be seen, the team was able to deduce its location using a technique called gravitational lensing. While dark matter does not absorb or emit light, it does have gravity.

So it bends the path of light passing nearby, warping our view of anything on the other side of it. The dark matter in Abell 3827 bent the path of light rays coming from a distant background galaxy, which happened to be aligned just right for the team's purpose.