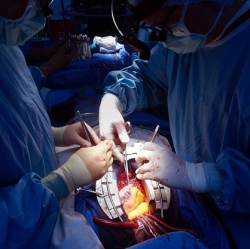 Surgeons have carried out the first ever robotic open-heart operations in Britain at the New Cross Hospital in Wolverhampton. The Da Vinci robot is remotely controlled by surgeons who are given a view of the heart from cameras attached to its four arms.

Natalie Jones, of Stourbridge, 22, was the first patient to have the procedure to have a hole in her heart repaired. Doctors claim the operation is safer for patients than keyhole surgery.

Normal heart surgery involves cutting open the breast plate, but the robotic arms are inserted by making cuts between the patient's ribs.

A surgeon is given a 3D, high-definition view of the heart and can move the arms using a control panel. Each time they move their hand 3mm, the robot arm moves just 1mm. Heart surgeon Stephen Billing said: "There is less pain and patients are able to return home to their normal activities far sooner."