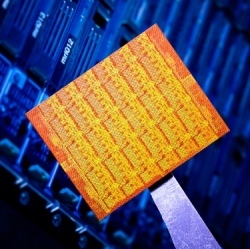 Crossbar is announcing today a new kind of memory chip that can replace flash memory, one of the fundamental building blocks of digital electronics, in a number of of applications.

The Santa Clara, Calif.-based chip startup is announcing Resistive RAM, a technology that can store a terabyte of data on a single chip that is smaller than a postage stamp. It can access that data 20 times faster than the best breed of flash memory. Those features could prove disruptive to the $60 billion dollar flash market that is at the heart of the $1.1 trillion electronics market. Flash is used in everything from iPhones to tablets to digital cameras.
Crossbar says it will enable a new wave of electronics innovation for consumer, enterprise, mobile, industrial and connected device applications. Because of this potential, Crossbar has had success raising money. It has raised $25 million from Kleiner Perkins Caufield & Byers, Artiman Ventures, and Northern Light Venture Capital.
The company can put a terabyte of data, or about 250 hours of high-definition movies, on a single chip that is smaller than the equivalent flash memory chip (as pictured at top). It could also perform its storage functions at 20 times lower power, extending the battery life of devices using it to weeks, months, or years. Crossbar also says it has 10 times the endurance of NAND flash chips that it could replace.