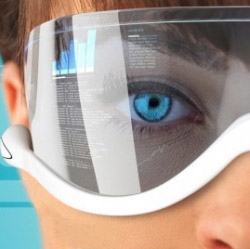 A spokesman for the Chinese firm said the glasses would be able to search by using facial recognition. Kaiser Kuo told Reuters that Baidu had not yet decided whether the glasses would be made commercially available.

"We experiment with every kind of technology that is related to search," Mr Kuo said. Like Google Glass, the Baidu glasses – reportedly known internally as Baidu Eye – consist of a small LCD screen attached to a slim headset.

A leaked image taken at Baidu's offices show a person wearing a headset matching the description – but Baidu would not confirm if it was Baidu Eye. Some early reports had suggested that news of the technology was in fact an April Fool's joke – but while some reports on 1 April were embellished, there was truth behind the rumours.

Mr Kuo said that the technology makes the most of Baidu's considerable expertise in facial recognition.

"What you are doing with your camera, for example, taking a picture of a celebrity and then checking on our database to see if we have a facial image match, you could do the same thing with a wearable visual device."