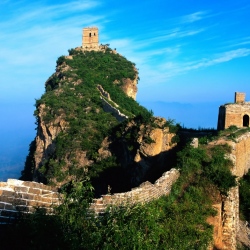 Beijing has approved funding for major projects to develop core technologies for nuclear-powered vessels, a first official indication of plans to build nuclear-powered aircraft carriers.

China probably kicked off a research program aimed at developing nuclear reactors to power its future aircraft carriers.

A report posted on the website of the state-owned China Shipbuilding Industry Corporation (CSIC) on Feb. 19 stated that the Ministry of Science and Technology has formally kicked off an effort to develop nuclear power plants for ships.

All of the U.S. Navy's aircraft carriers and submarines are nuclear powered. The key advantage of nuclear powered ships is that they don't have to refuel nearly as often as conventionally fueled vessels — think decades rather than months. (On a side note, naval nuclear reactors tend to use highly enriched uranium, the same stuff that's key to making nuclear weapons.)

China's planed homemade carriers are said to be based on the Liaoning's design and will incorporate lessons learned from operating the "starter carrier," as she has been called. Media reports have suggested that the first two locally built carriers will be conventionally-powered and enter service around 2015, with a third nuclear-powered vessel possibly entering service around 2020.