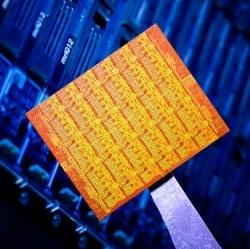 The Tianhe-2 was ranked No. 1 on the TOP500 list of the world's most powerful supercomputers. This marks China's first return to the top position since November 2010, when the Tianhe-1A was named top dog.
Also known as Milky Way-2, the system was developed by China's National University of Defense Technology. Most of the features were developed in China although TOP500 editor Jack Dongarra said it uses Intel products for the main computing part. Tianhe-2 has 16,000 nodes, each with two Intel Xeon IvyBridge processors and three Xeon Phi processors for a combined total of 3,120,000 computing cores. It will call the National Supercomputer Center in Guangzho, China its home.
The TOP500 list first started out of a conference in Germany in 1993 and is now a "much-anticipated, much-watched, and much-debated twice-yearly event." The latest edition was announced today during the opening session of the 2013 Supercomputing Conference in Leipzig, Germany. Information about high-performing computers is of interest to manufacturers, users, potential users, and tech junkies. TOP500 publishes this list in an effort to strengthen the high-performance competing community and provide a better understanding of the market through communication and collaboration.