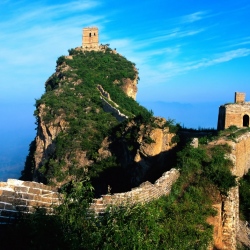 The city's super capacitor buses have been upgraded for speed and battery life, allowing buses to run the entire route after charging them just once instead of at every two or three stops.

The 12 upgraded super capacitor buses all run on route 26 from the Bund to Hongqiao area. Officials said the downtown areas are ideal for such green buses on long routes but don't require high speed and have low exhaust discharge.

Currently, all buses on routes 11, 26 and Chongming Line 1 ply super capacitor buses, the first commercial and wide use of such buses in the world, according to the Shanghai Science and Technology Commission, which plans to use the new upgraded buses on more routes.

Bus operator Shanghai Bashi Xinxin Automobile Service Co started using the buses commercially since 2006 and added more such buses after the World Expo.

The government was keen to promote the use of the energy-efficient buses but struggled with the problem of recharging and poor heat output. But the updated technology helped reduce the weight of capacitor system from 1.6 tons to 0.6 tons, while doubling its electrical capacity from 3 to 4 kilometers to over 10 kilometers. The manufacturers also claimed to have solved the heat output during hot weather.

With just one or two charging centers now needed on the entire route, costs have come down along with the travel time.

The new upgraded buses was put into service in December last year and by last month, 12 buses – almost about half of the buses on route 26 – have been equipped with upgraded capacitor system.