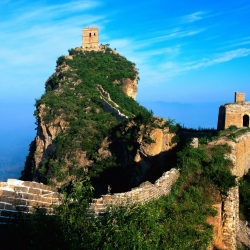 China will build a second, larger aircraft carrier capable of carrying more fighter jets, the official Xinhua news service reported late Tuesday, quoting a senior officer with the People's Liberation Army (PLA) Navy. Chinese officials denied foreign media reports in September 2012 that China was building a second carrier in Shanghai.

China currently has one aircraft carrier, the Liaoning, which was refitted from a Russian-made model. Considered by military experts to be decades behind U.S. carrier technology, it was originally intended to serve as a floating casino, but was turned to military use in the runup to a once-in-a-decade power transition in late 2012.

China is also building up other forms of military hardware, including a stealth fighter jet believed to be capable of landing on a carrier, drone aircraft and nuclear submarines.

China is alone among the original nuclear weapons states to be expanding its nuclear forces.