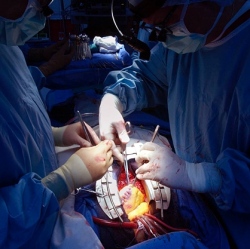 Children's heart surgery in the UK – often the source of bitter controversy – has improved significantly, a report has concluded. The mortality rate within 30 days of an operation has fallen from 4.3% in 2000 to 2.6% a decade later. In that time the number and complexity of the cases both increased, the study in the journal Open Heart showed.

The NHS in England is continuing its review into how child heart surgery should be organised. Repairing the hearts of children born with congenital defects is one of the most complex procedures in the NHS. The study showed the number of procedures increased from 2,283 in 2000 to 3,939 in 2009.

The discipline evokes strong passions, which erupted when plans were announced, and then shelved, to cut the number of hospitals providing the delicate surgery in England from 10 to seven. Then in 2013, surgery was suspended at Leeds General Infirmary amid concerns about death rates.

Later, an investigation found the decision was based on "invalidated and incomplete data". The suspension was also prompted by concerns raised by families and doctors at Newcastle upon Tyne NHS Foundation Trust, where child heart surgery is also carried out.

Professor Martin Utley, who conducted the UK-wide assessment of death rates at University College London, said the ongoing controversies meant we had "lost sight of the fact these are very good outcomes internationally".