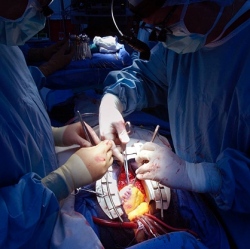 Surgeons removed a man's tumour and rebuilt his body using leg muscles and tissue they had removed and attached to his arm to keep alive. The operation on Sunderland man Ian McGregor lasted 18 hours and is thought to be the first of its kind in the UK. Surgeons in Newcastle took his calf, attached it to his arm and then used it to repair the site of the operation.

The 59-year old, who is making a good recovery, said: "You just can't put into words what they did." The large aggressive tumour had spread from Mr McGregor's pelvis into his thigh. Previous attempts had been made to treat the cancer over the past 10 years but had been unsuccessful.

For the latest attempt, surgeons feared the hole left would be too big to repair. Then the team at Newcastle's Freeman Hospital came up with the idea to remove his lower leg, except for the bones, and attach it to his forearm – thereby maintaining the blood flow.