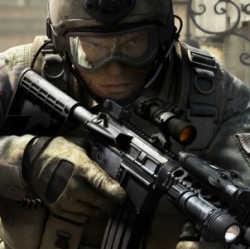 The row blew up between publisher Activision and two of Modern Warfare 2's developers.

The programmers sued after being fired, claiming Activision had sacked them so it could avoid paying up to $1bn (£654m) in royalties.

Activision countersued saying the pair had left with company secrets and had breached the terms of their contract.

'Stolen' staff

Jason West and Vincent Zampella, former bosses of Activision subsidiary Infinity Ward, sued for wrongful dismissal after being fired in March 2010.

Initially they said the success of the Modern Warfare 2 game meant they were owed $36m in royalties, a figure that grew to $1bn in later court filings.

On leaving Infinity Ward, the pair established a new studio called Respawn Entertainment, and started developing games for Activision's arch-rival EA.

In response, Activision launched its own legal action, saying Mr West and Mr Zampella had stolen company secrets and poached staff to help their new venture get established.

Now the row has been settled out of court. No details were given of the deal the two sides had reached. However, Activision said the size of the settlement would not significantly affect its earnings.

EA said the settlement represented a victory for the developers.

"Activision's refusal to pay their talent and attempt to blame EA were absurd," it said in a statement. "This settlement is a vindication of Vince and Jason, and the right of creative artists to collect the rewards due for their hard work."

The settlement comes only days before the start of the E3 annual gaming show that is held in Los Angeles.